February Meeting.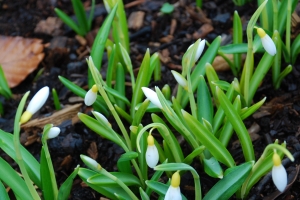 Around 60 hardy members of Snitterfield Garden Club, who could easily have stayed tucked up in the warm at home, braved the cold weather to meet at the Village Hall at 7.30 on Tuesday 4 February, knowing there would be a warm welcome and hot refreshments available, as every month. At 8pm we welcomed our speaker, Tony Clear, whose subject was 'Patios and Pots'.
An RHS listed speaker with over 40 years' experience in landscape and nursery horticulture, Tony spent 17 years as under-gardener at Spetchley Park Gardens, then 21 years as Head Gardner at the now sadly closed Brook Cottage Gardens at Alkerton, Banbury.
Tony's talk covered the development of the modern patio, or terrace, from its inception in ancient times as a courtyard within a domestic dwelling, right through its use as a balustraded viewing platform around the Manor House, and up to today's extension of the living area leading straight out of the house. Its evolution passed through stages including pre-cast concrete slabs, the crazy paving age of the '60's, the 80's (slippery!) decking, up to the proliferation of the barbecue making a patio essential to the modern idea of outdoor living. Tony pointed out that almost any material can be used to form a patio, siting broken windscreens and crushed CD's as tested examples!
Patios need pots! Traditionalists may opt for frost-proof terracotta which needs to be fired at above 3000 degrees to ensure it is almost impervious to water, but glazed pots are also virtually waterproof, salt-glazed being even better and longer-lasting. However, if more humble and affordable pots are to be left out in the winter, line them first with bubble-wrap to protect roots from freezing, with hessian tied on outside to protect the pots.
Colour schemes, feeding regimes, pests and diseases were all covered with one important tip to be passed on: slug bait with ANY ingredient beginning with 'M' is to be avoided - if you see 'M' as standing for 'Murder' you realise that it will cause the death not only of slugs but of the birds and small mammals which then eat them. Please, only buy slug bait based on iron or aluminium sulphate, and even then use it sparingly - one pellet every 2"-3" or so is ample.
Next month: join us on 3 March at 7.30 to hear Steve Edney's talk on 'The Salutation Garden' and for more details about our club, please call me on 731830.
Gillie Waldron, Chairman