SNITTERFIELD GARDEN CLUB OUTING - 7 June 2022 - TO HODNET HALL GARDEN AND WOLLERTON OLD HALL GARDEN
We set off early in the morning from the village en route for Shropshire. The first garden was at Hodnet Hall, owned by Jane and Algernon Heber-Percy.
The garden was re-modelled in 1920s, it covers 60 acres, and we had it all to ourselves for the morning. The garden has an open parkland style and includes a great variety of towering trees. The lime free soil means that rhododendrons, camellias and azaleas flourish here. There are also many beautiful herbaceous borders containing many varieties of hardy geranium and some interesting combinations of plants.
Dykes dam the stream that runs through the property to make a series of ponds, each surrounded by imaginative planting. There is also a walled kitchen garden bursting with produce and a stunning peony border.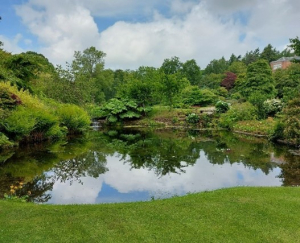 Our second stop was Wollerton Old Hall, another delightful garden but a complete contrast to the previous stop. It has been described as "a world class example of an English garden", and it certainly lived up to this accolade.
The whole garden covers 4 acres. It is made up of a series of "rooms" and due to this layout seems very intimate. Each "room" has its own planting style and a focal point drawing the eye through it. The herbaceous borders included stunning combinations of contrasting or complimentary colours. Arches, arbours and gateways divide each area, every one interesting and each different from the next.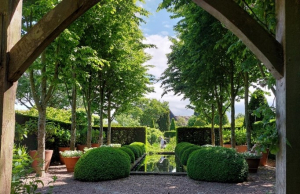 Some areas contain formal topiary shapes and a rill runs through part of the garden.
There is also a wooded area, quiet and peaceful, except for the birdsong. It is obviously a haven for wildlife.
Our next "indoor" meeting is the AGM and produce show on Tuesday 6 September. Classes for the show are detailed on our web site. New members are always welcome. Do come along and join us there, and perhaps enter something you have grown or a picture for the photography competition
The list of speakers for the 2022 -2023 meetings will be posted on our web site: www.snitterfieldgardenclub.org.uk
Jean Harris
Committee Member