Chairmans Blog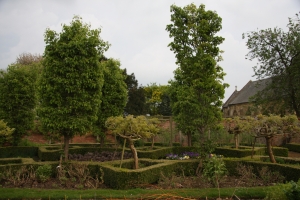 Visions of a June sunny evening visiting the delightful romantic "Stone House Cottage Garden", Kidderminster were almost shattered as the squally winds, heavy showers dramatically ranted all day. Nevertheless, loyal, seasonal garden club members turned up to explore this exquisite one acre garden, carved up into compartments and pathways where a vast collection of rare and unusual plants grow. It is surrounded by unusual follies each built to celebrate the birth of another child. Creepers and climbers clamber up and over the walls, creating just the setting for Rapunzel to be saved by a Prince. The gardens are planted with a variety of plants giving colour, texture and interesting foliage which had several of us guessing what they could be. One we soon became aware of-a vicious bright orange bloom from South America that stung!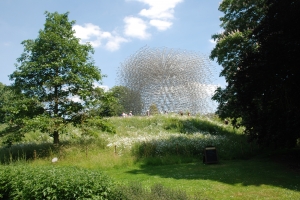 We had a great day out at Kew gardens, how it has changed! It was only tuppence entry when I was young, much more now but well worth it. We were all wowed with the magnificent Broad borders, bursting with colours of purple , tangerine, and lime green. A highlight was the Hive installation which examines the plight of the bee, with light and soundscapes driven by activity of a hive nearby. It was situated on a mound densely planted with wild flowers including my favourite oxeye daisy (I carried a bunch when I married). We loved the tree top walk and those who had time enjoyed Kew Palace. There is so much to see, what with the various Conservatories, gardens and plant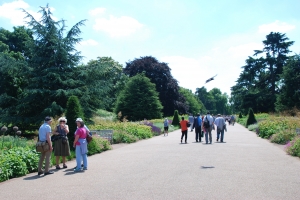 collections. Perhaps one of my favourite spots was the Mediterranean garden where hubby and I enjoyed our picnic amongst the olive trees and lavender, bathed in sunshine listening to the tweets of the Parakeets not realising a blazing inferno from a tower of destruction was happening just a few miles away.
We end our gardening year with a party at a members' beautiful country garden complete with a variety of wildfowl and donkeys. All members are welcome, bringing a plate of canapés. Summer drinks will be provided.